A Case of Poisoning, 1994, by Felix Gmelin
After Robert Gober (1989) and Ed Brezezinski (1989) Oil on polyester, 100 x 85 cm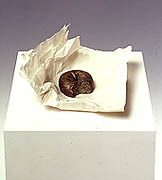 The sad Story of a Starving Artist.
'look, it was an honest mistake,' swears Ed Brzezinski, an artist who las week created a ruckus at SoHo's Paula cooper Gallery when he scarfed down another artist's sculpture.
'Okay, I was hungry,' Brzezinski said, 'I'd been drinking and I hadn't eaten anything all day.' Brzezinski was at the Cooper Gallery to check out the new show of Robert Gobers work, which included such such installayion as a drain mounted on a wall, a wedding gown and a plaster cast of a bag of kitty litter.
'I noticed this bag of doughnuts sitting on a pedestal,' says Brzezinski, who also works as a critic and a curator.
'Plain doughnuts with no sugar. I figured somebody had bought them and gotten tired of them. So I grabbed one and bit it. It tasted stale. I didn't want to finish it, but I didn't want to finish it, but I didn't want to put it back in the bag and gross everybody out. So, I put it in my pocket.'
'Somebody said: "Hey, this isn't Dunkin Donuts!.", The the artist got upset and came up to me and said, "This person saw you take a bit out of my doughnouts and put in your pocket". He said, " You brake it you buy it!"' (That particular Gober piece sells for $ 8,000.)
'I wasn't trying to attract attention to myself. I just had a lot on my mind. I was planning my tripp to Berlin. I just wasn't thinking. People leave plastic glasses on pedestals. you newer know where the artwork ends.'
'Paula Cooper told me never to come back Even when I was outside on the sidewalk, she said, "give me that (liquor) glass back" I said "What are you going to do - break it over my head?" I told her it was very hostile not to give me the benefit of the doubt.'
By this time, Brzezinski had learned that Gober had coated his doughnuts with Roplex, a preservetivr chemical. 'I threw up. An ambulance took me to the St. Vincent's Hospital. They said that if the chemical was dry, it goes right out of your system. If it'd been liquid, it would have killed me. I called the police. As long as the gallery was getting nasty, I thought I'd file a report in case I wanted to sue. I don't think I will. What is upsetting me is how the art community is now acting like I was a saboteur. This won't be good for my career'
A spokeswoman for Paula Cooper would only say, 'The fact that it was a sculpture we prominently posted on a card'
'I didn't see it!' says Brzezinski.

Source: New Yourk Post, October 5, 1989