Art Criticism, 1995, by Felix Gmelin
After Thomas Olsson (1986) and employees at Volvo's Swedish headquarters (1990) Tempera, oil, gold and silicone on wood, 101 x 123 x 36 cm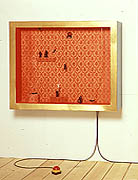 Volvo bought Thomas Olsson's artwork in 1986 to decorate the company premises. In 1990, when Olsson borrowed it for his exhibition at the Borås Konstmuseum, it was discovered that the work was damaged. 'We were able to buy back Environment for Twelve Gorillas and One Ballerina from the owner, Volvo. It is easier to list the gorillas that were intact than the ones that were destroyed. Most of the heads were torn off. The wallpaper was in tatters. However, the gorilla that was behind the door was still in one piece. They had been very upset at the head office; they couldn't cope with this piece. Not only did they say it wasn't art they interpreted it as an insult,' I was told by Nicolas Krüll, Olsson's art dealer.According to an unoYcial source at the car manufacturer, it was thought that the work drew 'an inappropriate analogy with the head office itself,' and that it spoiled the look of the premises.
The picture had already been damaged a few years previously, when a critic interviewed the artist about his work. The critic used the gilded frame of the box as a writing surface. Her text then became inscribed in the work.

felix gmelin