The Overpainting, 1996, by Felix Gmelin
After Arnulf Rainer (1973) and Arnulf Rainer? (1994) Oil on canvas, 110 x 91 cm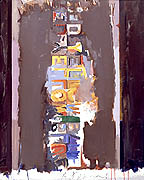 'At first I was shocked and depressed, then I was angry, and now I am in despair,' said Austrian artist Arnulf Rainer, 65, after 42 of his paintings were destroyed by an unknown perpetrator in September last
year.
'It must have been a professional, but we are still groping in the dark,' says Karl Hikade, Rainer's assistant at the Art Academy in Vienna. The carefulness of the black overpainting, in which the artist's signature consistently remains visible, shows that a professional was involved.
Hikade says Rainer may have one or two of the main canvases restored. The rest will probably have to be destroyed. The perpetrator left marks of red, yellow and blue on certain other pictures, which according to reports will be easier to remove. The paintings are currently being stored in two plastic-sealed chests. Carbon dioxide is being pumped inside the sealed plastic, to prevent the black paint from drying.

From Art Magazin 1/1995

A destroyer of his own pictures? Arnulf Rainer, who became known for painting over motifs by himself and other painters, apparently destroyed a large number of his own paintings himself, contend the police in Vienna. They say the artist himself is the only person who could have had the time to paint colour and slogans over canvases stored in his own studio. The artist describes the police report as a 'document of helplessness.'

From Frankfurter Allgemeine Zeitung (DPA), February 11, 1995

Soon it will be possible to look at the destroyed paintings. Rainer has announced that the paintings will be exhibited at the Art Academy in Vienna.

From Frankfurter Allgemeine Zeitung, February 17, 1995