The Board
Karin Hansson 2001, elevator music, framed color prints, and the view of Sergels Torg.
A fantastic view of Stockholm's economic center supplies the background for these portraits of board members for Sweden's four largest banks, like a reminder that capital is controlled by ordinary humans. SEB's board was photographed by Magnus Persson, Handelsbanken's by Victor Brott (Global Reporting), Föreningssparbanken's by Christoffer Edling, and Nordea's board was photographed by Per Brogaard. Some board members are missing, either because they did not care to participate or because there were no fitting photographs.
Monopoly World Championship 2001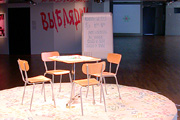 Karin Hansson and Nils Claesson 2001. Board Game.
Monopoly tournament consisting of 29 rounds, June 19-July 28. Those invited to compete are among others Jorma Ollila, George Soros, Nobuyuki Idei, Alan Greenspan, Göran Persson, Göran Lindahl, Percy Barnevik, Bill Gates, Steve Jobs, Madonna, Jerry Yang, Yahoo, John Chambers, and Britney Spears.
"MONOPOLY money is minted in every currency from Deutsche mark to yen," says John Chandler, marketing head for Hasbro Games. "The World MONOPOLY Game Championship brings together the best MONOPOLY players from around the globe for the highest level of MONOPOLY competition anywhere in the world."
The last tournament was held in Toronto and was won by Yutaka Okada, a 33-year old economist from Japan. http://www.monopoly.com/
Karin Hansson, b. 1967 in Gothenburg, Sweden. Lives and works in Stockholm. Initiated the project "Money." Active as an artist and curator. Member of the board of Stiftelsen Medialab, which is responsible for CRAC. Responsible for Internetprojektet Association for Temporary Art -[a:t] (www.art.a.se), which she started in 1995 together with the artist Åsa Andersson.

For print out, open the page in new window.